Our friend Richard Rodriguez of the BitterEnd Blog had an excellent post titled VTS – Working with large vessels, that gives Puget Sound boaters tips on communicating with the numerous large ships transiting to and from port.
The post had me thinking about my frequent dealings with Vessel Traffic Services worldwide like the time we entered the Singapore Straights and our Captain ordered, despite loud protests, the deck crew to finish chipping paint on the Flying Bridge. The result… the mate on watch missed a few critical calls from the local vessel controllers and they basically shut down the port for 20 minutes to give us plenty of sea room…. and a $25,000 fine!
Once my mind was past reminding me of few sea stories to tell at the next CAMM meeting I started to realize that I had no idea what the VTS stations I have been calling look like. So here they are:
United States:

The Volpe Center recently implemented a vessel communications and tracking network for the Saint Lawrence Seaway. The network, based on the automatic identification system, promises improved safety, security, and efficiency throughout the Seaway. Above, the new system in use at the Eisenhower Lock vessel traffic control center in New York. (Photo courtesy of Mr. Kam Chin)

New York, NY – Seaman Operations Specialist Jason Dailey, sector operator at the Vessel Traffic Center at Coast Guard Activities New York, Staten Island, N.Y. monitors vessel traffic in the New York Harbor. USCG photo by PA2 Mike Hvozda.

BM2 Erin de la Cruz, a controller at Vessel Traffic Service (VTS) Houston, monitors the tracks of numerous ships and barges as they make their way along one of largest concentrations of heavy industry and maritime traffic in the world.

At LOOP's Marine Terminal, vessel traffic controllers maintain a 24-hour watch over all vessel traffic in the LOOP controlled safety zone. Similar to air traffic controllers, they monitor radar and maintain continual radio communication with tankers.

NorControl VOC 5060 system as installed and operating at the
Marine Exchange's Vessel Traffic Center, which runs VTS for
Los Angeles/Long Beach Harbor in partnership with the U.S. Coast Guard
Europe:

Monitoring vessel traffic in the South West Lane. The three screens to the right of the picture provide the operator with live radar coverage of vessel traffic throughout the Dover Strait

The Vessel Traffic Service Centre in Bremen

London

Horten Norway
Asia: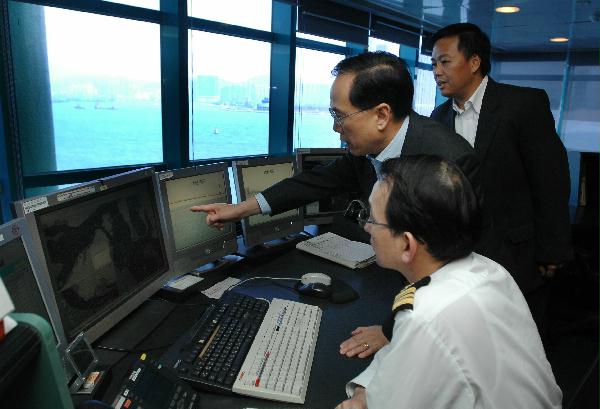 The Chief Executive, Mr Donald Tsang, visiting the Hong Kong Marine Department to better understand their work in vessel traffic control, marine rescue and co-ordination, as well as ship registry and safety inspections.

VTS Hong Kong

Singapore
Vessel Traffic Service Links;