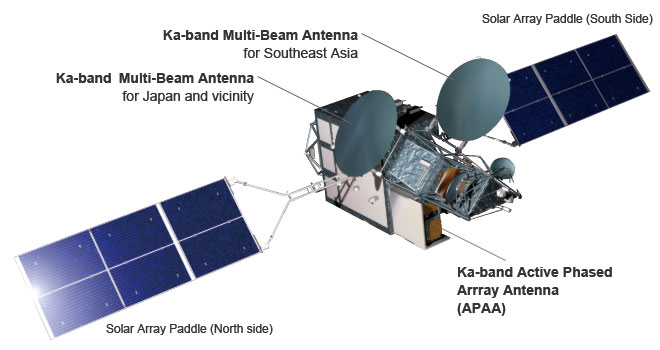 Here at gCaptain many of our readers browse the site via slow shipboard internet connections so we spend a considerable amount of time attempting to make the site bandwidth friendly. Mostly we fail. Today's internet simply has too many interesting images, video and embeddable multimedia to be delivered on a shared satellite connections but Japan might have the solution. JAXA (Japan Aerospace Exploration Agency) explains;
The "KIZUNA" is a communications satellite that enables super high-speed data communications of up to 1.2 Gbps to develop a society without any information availability disparity.

The KIZUNA (WINDS) does not require costly ground equipment. If you install a small antenna, you can receive data at up to 155Mbps and transmit data at up to 6 Mbps. With a larger antenna of about 5 meters in diameter, super high-speed data communications of up to 1.2 Gbps will be available. (Such a service is mainly for organizations and companies.)
Using an antenna for South East Asian countries, we are aiming to achieve super high-speed communications with nations in the Asia/Pacific region with which Japan has close ties.
While this satellite is not intended for marine applications we can still hope for a future where a receiver is attached to KVH's incredibly small marine satellite antenna to provide super fast connectivity at sea.
Many thanks to Panbo for the link.