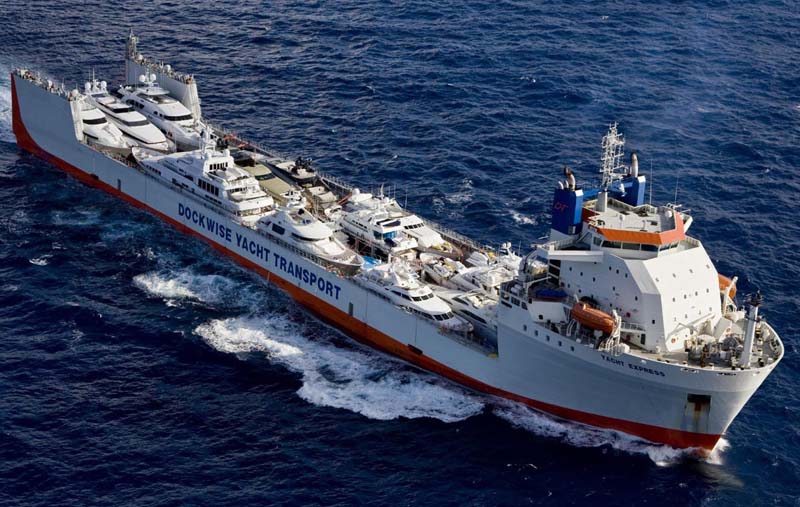 Yachtfourms.com brings us this story on the Dockwise Yacht Transport 685′ "Yacht Express". Dockwise has transported more than 9,000 motor and sailing vessels to various destinations around the globe.
The very size of this new transport impacts our senses, appearing more as a high-rise condominium/yacht club underway, rather than a seagoing suitcase packed with tens of millions of dollars in high-indulgence yachts. Her first voyage headed out from its headquarters in Ft. Lauderdale, for the Mediterranean. Italy. Later, she boasts a schedule to connect the world's most exotic ports. Now, if you want your yacht delivered from Port Everglades to St. Thomas, La Paz, Vancouver, Aukland, Brisbane, Papeette, Dubai, Genoa, Toulon, Mallorca, Southampton, or back – you name it; near any popular cruising ground in the world – you can ship it with Dockwise Yacht Transport, DYT. Maybe the ideal way to go cruising abroad; Yacht Express saves time, and perhaps money, plus a generous portion of wear and tear.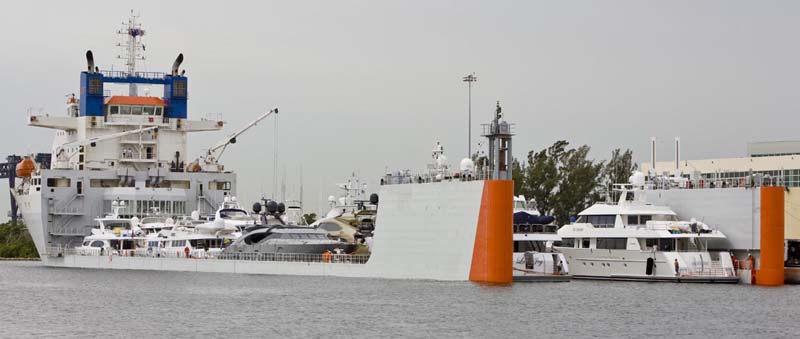 The loading process may appear simple, but it's really a well staged event that starts weeks before Yacht Express lowers herself into the berthing mode. This starts with scheduling, then procuring drawings on each yacht to determine load points, hull shapes, length, beam and weight. Only after these factors are determined can DYT prepare the proper keel blocks, initial loading stanchions and final welded stanchions that will secure YE's parasites.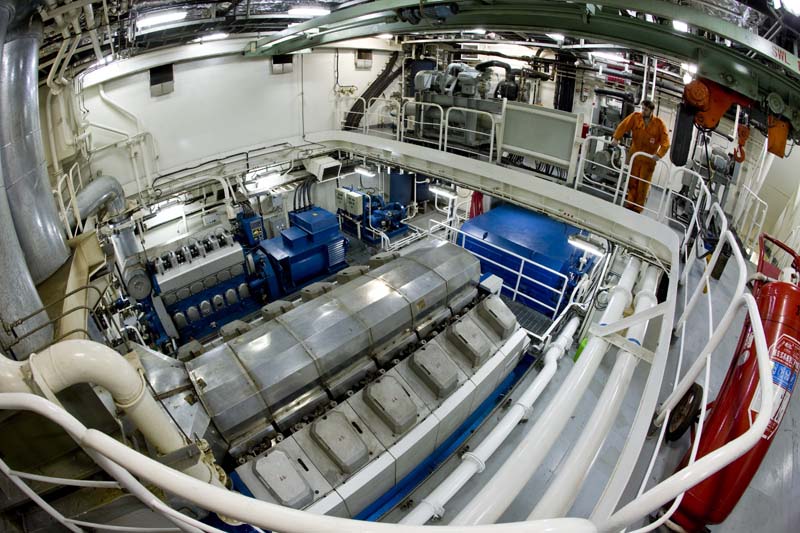 Yacht Express' mammoth engine room houses its diesel electric propulsion plant: 2x 8700 kW Wartsila 12V38B common rail diesels; well capable of driving this magnificent yacht-circus across the ocean or around the world at 18 knots. An interesting concept not shown here; Yacht Express conceals a vast tunnel which extends 550 feet under her cargo deck. With walking headroom, from the engine/thruster room forward, the tunnel holds all the ships electrical wiring components, for careful and complete maintenance.
For the full report on the Yacht Express head over to www.yachtforums.com
Links

New Yorkers call 911 on Dockwise Ship