Since the Deepwater Horizon exploded nearly two months ago everyone from NASA to NOAA, not to mention Kevin Costner & James Cameron, has been looking for new technology to deal with the gulf oil spill. Here are a few deceives that have yet to be deployed:
OSMAS – Oil Spill Monitor and Alarm System
Before you know where to deploy booms you first have to know where the oil is. Enter the US Navy's OSMAS system. The Navy tells us:
The system is designed to augment, and in some cases replace, human visual observation as the principal means of detecting spills. The primary intended use of the system is to protect marine facilities from accidental petroleum discharges by providing responding authorities with immediate notification of the occurrence of a leak or spill. By enhancing responders' ability to exercise timely countermeasures, early detection is expected to offer an effective means of minimizing the environmental and financial impact of a spill. Automated spill detection is particularly suited for use at night or during foul weather or choppy conditions when visual detection of oil on water is difficult or impossible. Read More…
FRAMO – Transrec 250
When the mighty oil tanker ERIKA sunk off the coast of France 11 years ago it was the Transrec 250 that saved the day. The company's website tells us:
The TRANSREC is a self-contained combined oil recovery- and transfer system for emergency offloading of grounded or disabled vessels, containment and recovery operations at sea or even offloading of sunken vessels.

For emergency offloading the TRANSREC supplies the portable offloading pumps with hydraulic power for transfer of cargo and/or fuel oil back to the Oil Recovery vessel or even to a UNIBAG or another type of storage facility alongside the Oil Recovery vessel.

The recovery unit consists of a free floating weir skimmer, with disc- and belt cassettes auxiliary equipment. The skimmer head is connected to the hose reel/lifting arm by a floating hose with integrated hydraulic lines, electrical cable and cargo hose.
The UNIBAG
Sometime engineers are better at designing new technology than naming it… and so is the case with the UNIBAG. This device starts by skimming the oil then balloons up to store the oil inside it's rubber bag. The manufacturer, Markleen, tells us:
The Markleen UNIBAG is a towable temporary storage bladder available in sizes to suit all oil spill response needs, from a few barrels in a harbour to a major accident offshore. It is tough and durable, but easily managed, and is compatible with all other response equipment.

In the event of a grounding or collision, a UNIBAG can provide the additional temporary storage to minimise the spillage. Often only a small proportion of a damaged tank's content, quickly transferred, can prevent a major disaster. Due to its low weight and compact size, the UNIBAG is capable of being transported by helicopter to the site of the operation. Read More…
Foilex Mini Skimmer
What these hydraulically driven units lacks in size it makes up for in sheer lifting power. Foilex tells us:
The heart of the TDS Skimmer is the hydraulically driven onboard TDS Skimmer Pump which is fitted in a 3-pontoon flotation frame with the original and since 1991 well proven flow controlled, self-adjusting skimming ring.

The TDS Skimmer is powered and controlled by Foilex own range of diesel or electric driven Hydraulic Powerpacks via the hydraulic hoses. Each Hose Package consists of hydraulic and discharge hoses stored on Foilex specially designed Hose Reels for easy transport and handling. Recovered oil is then pumped from the Skimmer up to the available collecting tank through the discharge hose. Read More…
Komara 40 – Oleophilic disc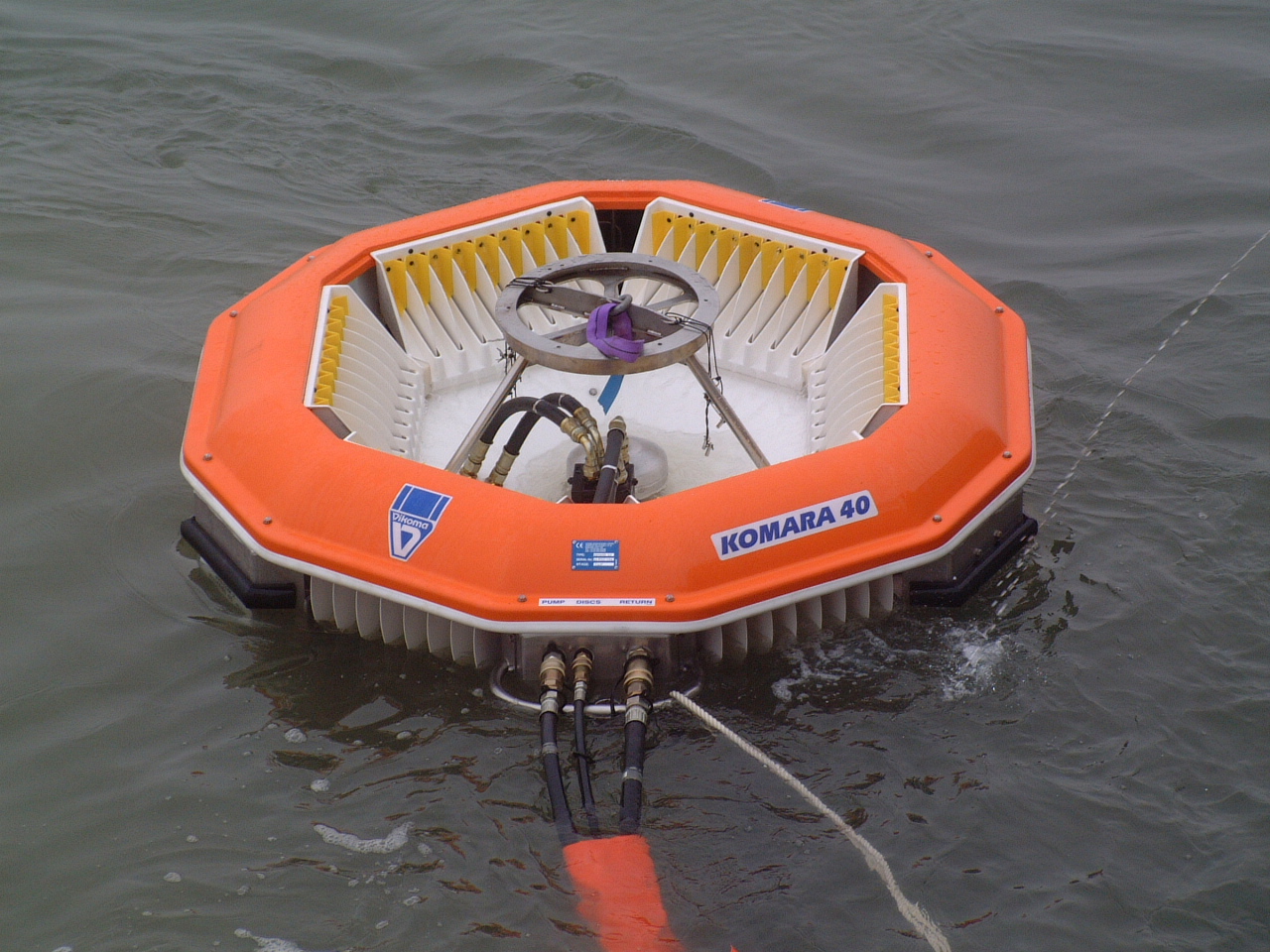 As with any technology, if you want the coolest devices then there is only one place to look…. Japan. What looks like a water skiing toy for Paul Allen's megayacht, this device's actual use is in the recovery of oil. But don't take our word for it, watch the hip product video on YouTube instead.
Commentary…
This is jsut a taste for some of the cool technology that exists for cleaning up oil spills. IT's certainly possible that some of these devices are currently deployed in the gulf of mexico but… gCaptain has not seen any evidence of it. This leads us to the question "BP: Why are you not using these??".