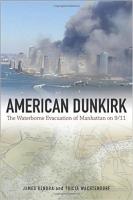 Book Review by Rick Spilman – The great New York boatlift of September 11th, 2001, is one of the less well known and least understood of the events of 9/11. In around 10 hours, the mariners of New York harbor evacuated an estimated 300,000 to 500,000 people trapped in Lower Manhattan by water. It has been called the largest rescue by sea in history and is often compared to Dunkirk, where a roughly comparable number of soldiers and civilians were rescued over a period of eight days. Now in their new book, American Dunkirk: The Waterborne Evacuation of Manhattan on 9/11, Professors James M. Kendra and Tricia Wachtendorf examine how and why this nearly miraculous evacuation was accomplished and what lessons can be learned in the case of future disasters.
When the World Trade Towers collapsed, as many as a million New Yorkers found themselves trapped on the southern tip of Manhattan. Mass transit was shut down. The bridges and tunnels were closed and a significant portion of Lower Manhattan was shrouded in smoke, ash, and debris from the still burning wreckage of the collapsed towers. Many walked north. As many turned toward the water. Then, through the smoke and drifting ash, something amazing happened.
Boats started to arrive along the waterfront to rescue those stranded by the attacks. There were ferries, tugs, dinner boats and fishing boats — craft of all types and sizes. No one, including the U.S. Coast Guard knew what to make of it.
Then, the Coast Guard did something equally remarkable. Rather than try to take control or to manage an evacuation that was both unforeseen and far beyond the scope of what anyone could have imagined, they let was happening, happen. The boats arriving were rescuing people, but there were so many to be rescued. They needed more boats. The Coast Guard issued a call over VHF radio for "all available boats." And the boatlift was on.
How did this happen? How was it possible than an evacuation on this scale in so short a period could take place almost spontaneously?
James M. Kendra and Tricia Wachtendorf tackle these and other questions in American Dunkirk: The Waterborne Evacuation of Manhattan on 9/11. James M. Kendra is Professor in the School of Public Policy and Administration and Director of the Disaster Research Center at the University of Delaware. Tricia Wachtendorf is Associate Professor of Sociology at the University of Delaware and Associate Director of the Disaster Research Center. They have studied the aftermath of disasters from the Indian Ocean tsunami to Hurricane Katrina, to earthquakes in China and Haiti, to the attack of 9/11 and understand the various responses to chaos and destruction. On that Tuesday, September 11th, there was no shortage of either chaos or destruction in Lower Manhattan.
In their book, Kendra and Wachtendorf give an account of what happened that morning and afternoon, often through the eyes and voices of individual responders – captains, crew members, dispatchers or managers, caught up in the maelstrom. They then offer their analysis of the dynamics of the evolving evacuation.
Kendra and Wachtendorf show that many of the assumptions about disaster response are not necessarily appropriate. Centralized control and elaborate planning are often not effective. There simply was no plan for a large scale evacuation of Lower Manhattan because no one imagined the need. The closest thing that the Coast Guard had on file was an emergency plan for the previous year's Operation Sail. Even if the City of New York had tried to control the evacuation, its emergency response center had been in the World Trade Center complex and was buried in rubble.
What emerged was a very different approach. Kendra and Wachtendorf write: "The maritime response to 9/ 11 shows a stolid and determined pragmatism that counters the geometric elegance of scripted emergency plans, with their boxes and arrows…. In the absence of any plan, and in the most serious emergency to face a U.S. urban area in many years, the maritime workers of New York made a space of normalcy and turned their usual skills into a coordinated effort."
Many played important roles in the evacuation, but the mariners of New York harbor were central to its success. They brought special skills and knowledge to the evacuation. Having worked the waterfront, they knew it better than anyone else and that local knowledge was critical. They were also part of a community. They knew and understood each other. Having worked together, they knew that they could rely on each other.
Mariners are also prepared to look for and react to the unexpected. Kendra and Wachtendorf write: "The wise mariner develops habits of looking, thinking, and questioning, and exhibits the qualities of vigilance, skepticism, and doubt. Their professional lives are always on the edge of crisis, looking ahead to possible dangers, planning maneuvers far in advance, having an escape strategy for a dicey traffic situation, having a little extra speed in reserve, just in case. These habits, it turns out, are excellent preparation for disaster response."
Many mariners also didn't think that they had any real choice. People needed to be rescued. The traditions of the sea require doing whatever one can to rescue those in distress. Kendra and Wachtendorf write: "One person we interviewed said, "You render assistance to any other boater in distress. That's one of the laws of sea." Another said, "If you hear a distress call and you're nearby, you go." We asked whether the mariners had thought about how the tradition applied in this circumstance, since this was a city in distress and not another boat. Repeatedly, we were told some variation of the following: "The tradition's already there, you know, the fabric is already made. You know, it just needed to be applied to the situation.""
Overall, American Dunkirk: The Waterborne Evacuation of Manhattan on 9/11 is a compelling read. It helps to explain the incredible events of the 9/11 boatlift, while also providing insight into approaches to future disaster management. My only caveat is that Kendra and Wachtendorf are academics and the book is, at times, slightly jargon-laden. Fortunately, the jargon is completely comprehensible. Terms such as convergers, sensemaking, keynoting, Incident Command System, or Emergent Human Resources Model, may not be part of common parlance for most of us, but all are made clear in the text.
One more quote from Kendra and Wachtendorf : "All disasters are cases of the ordinary achieving the extraordinary— in the case of the boat evacuations, with tremendous success. The principal insight that we hope readers take away from this book is that people have more capacity than they think."
American Dunkirk: The Waterborne Evacuation of Manhattan on 9/11 is a fascinating examination of a most remarkable event. Highly recommended.