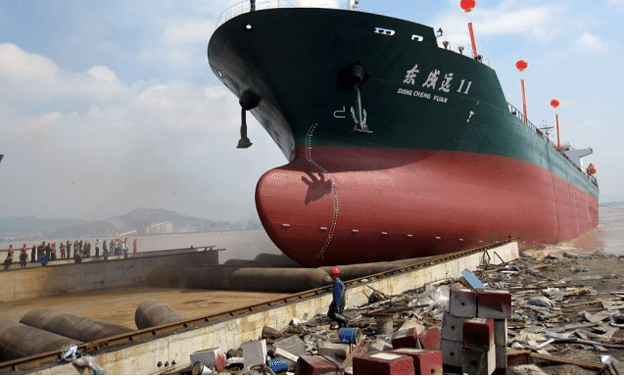 To learn more about marine airbags and their use for moving and launching large ships, we reached out to Song Tao of Qingdao Evergreen Shipping Supplies Co.,Ltd. Let's here what he has to say…

What were the first uses of air bags in the launching of ships?
The history of marine air bag ship launching dates back to 1981. Xiao Qinghe ship repair and building shipyard, located in Jinan city of Shangdong Province, launched a 60 DWT tank barge with air bag suspension on January 20, 1981. Seven air bags were deployed in that project. One was 2 meters in diameter and 6 meters long and used for elevating.  The remaining six air bags were 0.8 meters x 6 meters long and acted as the rollers. The first intention of that trial launch was to develop a prompt, less landform limited ship launching method for warfare purposes.
How has the technology advanced since then?
Over the past twenty years, the airbag ship launching system has made advancements in not only the air bag, but also the ship launching/landing technology. The first generation air bags used a rubber dipped canvas as a reinforcement layer to form the air chamber trunk. Two cone-shaped molds were then used to make the ends and everything was stuck together.
With today's air bags, the whole-enlacing-technology used for manufacturing is done together.  Rubber dipped synthetic-tyre-cords are used as the reinforcement layers with the trunk and two cone-shaped ends made at the same time.  Everything is then-laced together, so the air bag doesn't have any joints. Due to the development of rubber chemistry, the performance of the rubber employed in the latest air bags is highly enhanced and about 15 times that of the first generation bag with the same specifications.
The launching and landing technology has also developed. In the beginning, only small and flat bottom ships located on a fabricated slope could be launched with air bags. Now this technology is more flexible and less limited by the ship and landform. Now any type of ship with a DWT below 55,000 and in a place with enough launching space can be launched using air bags. The launching slope even can be sloped upward.  It has really developed into a cutting edge technology for launching ships, and especially useful for some marine emergencies.
They look very similar to Yokohama Fenders, how do they differ?
The main use of Yokohama fenders and Evergreen air bags are definitely different. It is well known that Yokohoma fenders offer an effective fender system providing a soft and stable berthing condition to ships. Evergreen air bags are widely used for ship launching, landing, heavy transport and air lifting. Due to the special use, structures of Evergreen air bags are optimized for safety and built for heavy duty use. The surface layers are enhanced for anti-abrasion and are pierce resistant. Even if they are somewhat wounded, Evergreen air bags can still work safely until repaired. The length of air bags are usually more than 10 meters and two cone-shaped ends make them look like huge sausages. Also, Evergreen air bags never use tires and shackles.
What are the advantageous to using this system over traditional ship launching techniques?
An air bag ship launching system does not need the traditional fabricated slipway so it saves time, investment, land, etc. Air bags need no extra maintenance and after use they can be cleaned and folded in the corner to wait for another mission. It is easy to find that air bags' elasticity can give more protection to the launched ship. A remarkable character of air bags is that the working height can be changed to redirect the ship or object being launched by adjusting the inner air pressure. For this character it is peerless compared to traditional ship launching techniques.
So what are the other uses for this system?
Evergreen air bags are not only used for ships, floating docks and caisson launching but they are also cutting edge for ship landing, heavy transport, marine salvage, etc. It is a versatile tool for many marine applications.
What was the most challenging mission your system has assisted with?
The most challenging mission we ever participated in was the ancient ship named "Nanhai No.1" salvage project. The project was called the most complicated and expensive salvage project in China's history. (photos of salvage project below)
It had been revised 6 times and been demonstrated 4 times during the preparing 4 years.  In June 2006, the top 22 experts were collected to demonstrate the latest project which finally got approved after two days of discussion.  It was finally decided to the best idea was to build a large caisson to contain the ship, then lift the caisson out of the water and onto land by air bags.
The Nanhai No.1 weighed 2,800 tons under water and when brought out of water, it weighed some 4,800 tons. The caisson was brought out of the water and placed on a submerged barge then carried to a temporary port. All we needed to do with air bags was land the caisson from the barge and move it to its final residence, a specially built museum named "crystal palace". The tides and dropping off weights, along with the caisson moved to land, made the barge's working height and direction change every time. We had to adjust the inner pressure of air bags placed under the caisson to redirect it to close the port or change the height of caisson bottom to reach a better condition for landing. On 12/25/2007 The first attempt to land the caisson was canceled because of a violent 4 meter wave when the caisson was near the port. During the next day's floodtime, it took more than 3 hours to land the caisson on the temporary port successfully with 16 huge air bags. The remaining 365 meters from the temporary port to museum was comparatively easier for the air bags to carry the caisson. On 12/28/2007, we completed our goal when the caisson arrived at its new home, the "crystal palace".
Any disadvantageous to using "Air Bags"?
Air bags ship launching technology can not be used for side-launch of big ships, so it is somewhat limited for ship launching. And it needs more calculation for the launching/landing process.
Is your company working on any new ideas for the future?
Yes. As was mentioned before, air bag ship launching technology can not currently be used for ship side-launch. We are working hard on the improvement of air bags and a design made for ship side-launch. We have two goals to achieve in the near future: one is to enable ship side-launch with air bags and the other is to launch DWT 100,000 ships using air bags.
How can we learn more about the product?
Our website, qingdaoyongtai.com, is a good place to start. We have plenty of marine air bag ship launching/salvage cases presented there that are of help.
Marine Air Bag – Ship Launching Photos
Video Of The Airbag-Assisted Ship Launch