Mooring ropes made with Dyneema® SK78 outperform generic HMPE in strength, longevity and reliability.
Operators in the marine industry, looking for high performance mooring ropes, are increasingly turning to ropes made from ultrahigh molecular weight polyethylene (UHMWPE), also known as high modulus polyethylene (HMPE). Ropes made from this synthetic material are just as strong as steel-wire ropes, yet significantly lighter, making them easier to handle, thereby saving time and money for the users and reducing the carbon footprint.
Not all HMPE is the same
Today, there are numerous suppliers of HMPE rope, as well as a handful of HMPE fiber producers. But not all HMPE is the same: there can be major differences in performance, consistency and reliability. Dyneema®, the brand of HMPE fiber from DSM Dyneema, remains the most trusted brand in the industry. The Dyneema® SK78 fiber significantly outperforms other HMPE fibres across a broad range of criteria.
For example, tests prove that Dyneema® SK78 matches its claimed strength of 35 cN/dtex every time, while other HMPE fibers show variations in production, and can be up to 22 percent lower in strength. When it comes to actual service life, ropes made with Dyneema® SK78 can stay in operation for much longer than those made from generic HMPE. That's because Dyneema® SK78 massively outperforms all generic HMPE in terms of abrasion resistance and long-term elongation, or creep.
Generic HMPE ropes abrade four times faster
The only way a generic HMPE rope can replicate the same strength as a high quality rope with Dyneema® SK78 is by optimising the rope construction towards strength alone. Consequently, the combination of the rope construction, combined with the lower intrinsic performance of the HMPE fiber, results in the reduction of service life. Tests show that generic HMPE ropes abrade four times faster than ropes made with Dyneema® SK78. Furthermore, ropes made with Dyneema® have up to four times longer creep lifetime when compared to ropes made with generic HMPE fiber.
In addition to these advantages, ropes with Dyneema® are more consistent in performance than generic products, due to the consistent quality of the Dyneema® fibers. As the inventor of HMPE fibers, DSM Dyneema has years of experience that shows up when one tests their fibers for uniformity. The variation in thickness, which is a sign of uniform molecular alignment, is less than 10 percent. This cannot be said of many of the other HMPE fibers that are out there.
PT Indo Straits learns the hard way
Important users of mooring ropes testify to the advantages of Dyneema® SK78. Among them is Indonesian marine engineering company PT Indo Straits, who uses AmSteel® Blue ropes, manufactured by Samson Rope, for spring lines on their coal transhipment crane barges, which are used out at sea to tranship coal from smaller barges to large bulk carriers for onward transportation.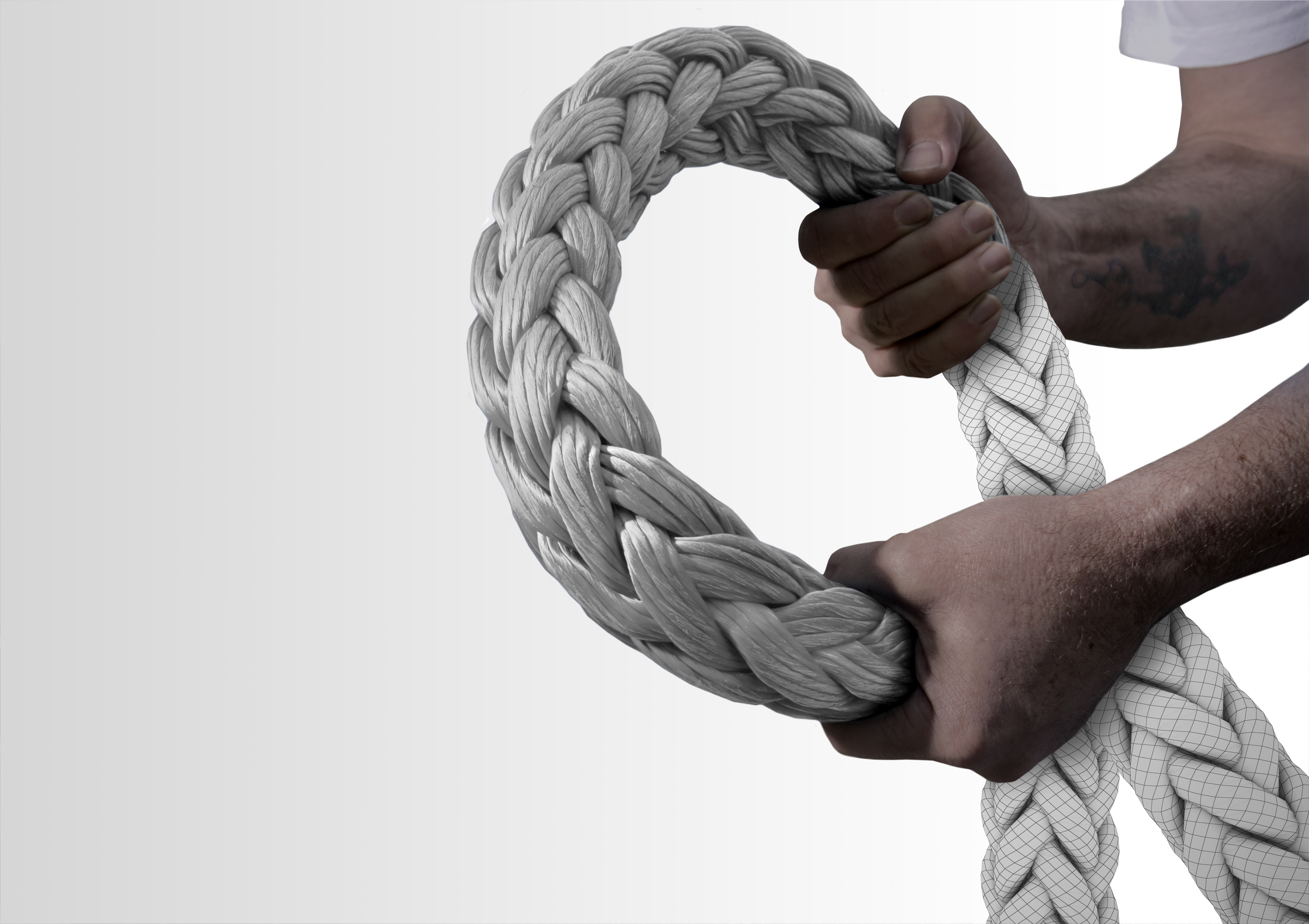 PT Indo Straits learned about the reliability of Dyneema® SK78 the hard way: in 2012, they were looking for ropes that were strong, safe, easy to handle and could perform in harsh conditions for at least one year. They knew they wanted ropes made with HMPE fiber, and initially went with a generic product. The 48-mm diameter spring lines, made with 12-strand generic HMPE fiber with a 32-strand polyester jacket, were specified with a breaking load of 165 tons and expected to have a life expectancy of approximately 4,000 operational hours – roughly one year.
In use, however, the generic HMPE ropes began breaking after just one week. After nine months of additional failure, the generic ropes were replaced with AmSteel-Blue, which are made with Dyneema® SK78 and require no jacket. After 11 months of operational usage, the ropes showed only half the amount of wear expected, and a full two years after going into service they are still performing well. The savings from this significantly longer service life far outweigh the higher initial purchase cost, delivering ongoing operational savings and increased safety.
Neil Liu, Applications Development and Technical Services Manager at DSM Dyneema says, "The operational usage conditions were harsher for the spring line ropes than other maritime operations, like docking mooring and tug towing, as the rope comes into contact with coal dust and rough contact surfaces. Also, the mooring configuration means the ropes made with Dyneema® take most of the load during operations. During the inspection, it was proven that the ropes made with Dyneema® had higher abrasion resistance and exceeded the strength requirements."
Paul Chong, Technical Sales Manager, APAC, for Samson Rope says the project demonstrated the value of the company's expertise and its longstanding collaboration with DSM Dyneema, "Samson Rope AmSteel®Blue, made with Dyneema® SK78, has a proven track record going back many years. In this case it exceeded expectations and provided the client with peace of mind when working in such a harsh environment."
Liu concludes, "As the inventor of ultra-high molecular weight polyethylene fiber, DSM Dyneema continues to push the performance benchmark and the quality of all our Dyneema® products and innovations. We rigorously ensure consistent high performance and quality from each and every fiber that goes into applications that secure maritime assets and operations. This ensures that shipping operators will always feel secure and have peace of mind in their operations."