The French military are continuing to track a luxury yacht seized, with its crew, on Friday by Somali pirates.

There has been no contact with the Ponant since it was boarded. French officials said they wanted to avoid using force.

French Prime Minister Francois Fillon said: "Our priority is to protect the lives of the people on board."

Somali coastal waters are among the world's most hazardous, with more than 25 ships seized by pirates in 2007.
There were no passengers on board the 87-meter (288-foot), three-masted yacht when it was hijacked Friday, a foreign ministry spokesman said.

There were 30 crew members on board — about 20 of them French and the rest Ukrainian, the spokesman said.

France flew a helicopter over the yacht on Friday but has had no contact with anyone on board, the spokesman said.

The white yacht, named The Ponant, has 32 cabins and four decks. It has lounges, a bar, and a restaurant. The yacht sails on luxury cruises around the Mediterranean, Red Sea, and Arabian Sea, according to its Web site.
Ship Specifics: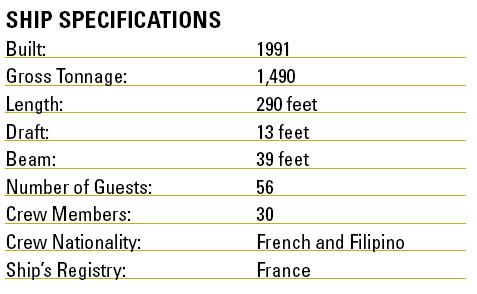 Wired.com featured a link to the map below of 2007 Pirate Attacks off Somali.
For more information view the full UN PDF , Live Piracy Map or a good video about piracy HERE.
UPDATE:
The La Ponant crew has been rescued, Lloyds List tells us:
SIX of the pirates who took over the French cruise ship Le Ponant have been arrested by French forces following the liberation of the vessel's 30 crew members.

The head of the French army Général Jean-Louis Georgelin said that the pirates were arrested after having gone ashore about one hour after the freeing of the crew of the Le Ponant.

"We were able to track the pirates, which made it possible to intercept about half the commando through a helicopter action," he said.

The operation was carried out with the authorisation of the Somali authorities, according to General Georgelin, who indicated that warning and interception shots were fired but said that there had been no direct firing on the pirates themselves.

The arrested pirates were being held off the Somali coast on the helicopter carrier, Jeanne d'Arc, according to a senior French navy spokesman. Continue Reading…
This post was written by John with Piracy map information provided by Richard of Bitterend. Did you know we accept article written by YOU?