USCGC Northland; Greenland, circa 1944
"Oh the sea, Oh the sea, the wide bounding sea!
Long may it roll between England and me!"
Irish Folk Song
EASTWIND (WAGB-279); Antarctic Operation Deep Freeze
(1955-56); PENGUIN DRILL TEAM
Player's Cigarettes "Polar Exploration"; A series of 25 cards issued in 1914
#7 Ross & Parry's Arctic Expedition, 1818     (1098 x 592)
Commander Ross at the North Magnetic Pole
#3 How Icebergs Are Formed
(1097 x 593)
Rear-Admiral Sir John Franklin
(1786 – 1847) was a British Royal Navy officer and Arctic explorer.  He disappeared on his last expedition, attempting to chart and navigate a section of the Northwest Passage in the Canadian Arctic. The icebound ships were abandoned and the entire crew perished from starvation, hypothermia, tuberculosis, lead poisoning and scurvy.

Franklin's father initially opposed his son's interest in a career at sea. However, Franklin was determined and his father reluctantly allowed him to go on a trial voyage with a merchant ship. This hardened young Franklin's resolve, so at the age of 14 his father secured him a Royal Navy appointment on HMS Polyphemus.

The Franklin Expedition set sail from Greenhithe, England, on 19 May 1845, with a crew of 24 officers and 110 men. After stopping in the Orkney Isles for supplies, the expedition was last seen by Europeans on 26 July 1845, when Captain Dannett of the whaler Prince of Wales encountered two of the convoy moored to an iceberg in Lancaster Sound.
abv rt: #12 Relics of Sir John Franklin's Expedition of 1845  (611 x 1101)
#9 Peary's Ship "Diana" in winter quarters, 1899
(1107 x 592)
Around the World on Cigarette Cards
HMS Assistance in the Ice by Thomas Sewell Robins, 1853
National Maritime Museum collections blog
HMS Assistance (1850) An Arctic discovery barque of the Royal Navy. She was built out of teak in 1835 at Howrah, Calcutta and launched as the merchant vessel Baboo.

In March 1850, the Royal Navy purchased her and had her re-fitted for Arctic service, after which she joined Horatio Thomas Austin's 1850 attempt to find Sir John Franklin's lost expedition.

She went on to participate in two Arctic expeditions before being abandoned in the ice in 1854.
Traditional Russian wooden boats and ships; XVI-XVII centuries
The Koch was a special type of small one or two mast wooden sailing ships designed and used in Russia for transpolar voyages in ice conditions of the Arctic seas, and was the unique ship of this class for several centuries.

This type of ship was in wide use during the heyday of Russian polar navigation in the 15th and 16th centuries.  In the 17th century kochs were widely used on Siberian rivers during the Russian exploration and conquest of Siberia and the Far East.

In the 19th century the anti-ice floe protective features of koch were adopted to the first modern icebreakers, and in fact koch may be regarded as the most ancient form of icebreaker, though wooden and relatively small.

Each iceboat had the cargo capacity of 1.5 to 2.0 metric tons (3,300 to 4,400 lb) and was equipped with long runners (5 to 7 m/16 to 23 ft) for portage on ice. If a koch became trapped in the ice, its rounded bodylines below the water-line would allow for the ship, squeezed by the ice-fields, to be pushed up out of the water and onto the ice with no damage to the body.

The largest koches were 60 feet long and 20 feet wide(sic), with a draft of 5 or 6 feet and a crew of 6 to 12.  more

The first ice breaking ships appeared in mid 1840's in Hudson River in the US and in the Elbe River in Germany. First dedicated icebreakers appeared in 1860's and 1870's in the St. Petersburg and Hamburg harbors. Before the turn of the century several dedicated sea-going icebreakers were in service.
Historical Development of Ice Capable Ships (pdf)
image above rt:
Ice breakers in the Hudson, New Jersey, winter 1925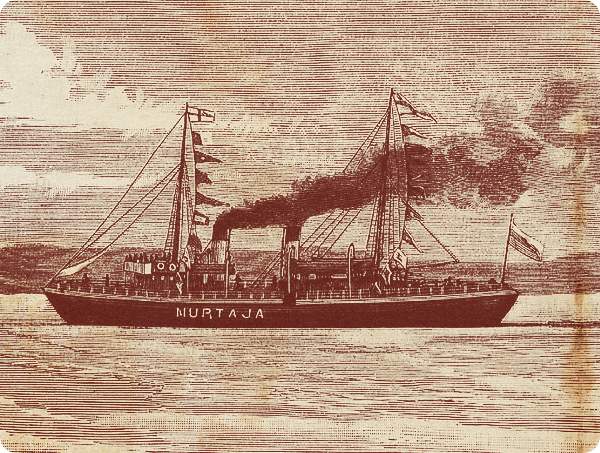 Finnish icebreaker Murtaja in the Finnish Swedish-language magazine
"Land och Stad" (Nya Pressen) on 16 April 1890
Built in 1890 by Bergsunds Mekaniska Verkstads AB in Stockholm, Sweden, she was one of the first purpose-built icebreakers in the world. Murtaja remained in service for 68 years until she was decommissioned and broken up in 1958 .

The history of winter navigation in Finland dates back to the 17th century when mail was carried year-round between Turku, Finland and Grisslehamn, Sweden, over the Sea of Ã…land.

During the winter season, the postmen used ice boats, a rugged sleigh-boats that was pushed over the ice until it gave in under the weight. Once in the water, the men began rocking the boat back and forth until it slowly began to break the ice and proceed towards open water. This mail route was often called the most dangerous in Europe.
Murtaja, the largest and most powerful European icebreaker at that time, was completed on 30 March, 1890. She left the shipyard on the following day and headed to Helsinki, where she was welcomed by a large cheering crowd on 2 April 1890. However, she lost a large number of cast iron propeller blades and while the replacement blades could be installed at sea by trimming the vessel so that the propeller shaft was near the water surface, the heavy task took several days.

She could break level ice up to 47 centimetres (19 in) thick in continuous motion as long as there was no snow, in which case even 25-centimetre (10 in) ice required backing and ramming.  In this method the ship was reversed two to four ship lengths before ordering full ahead, after which the ship could break new channel up to six ship lengths, almost 150 metres (492 ft).
SS Baikal in the act of breaking ice on lake Baikal, Central Siberia ‎
(1,010 × 749 pixels)
SS Baikal was an ice-breaking train ferry that linked the eastern and western portions of the Trans-Siberian Railroad across Lake Baikal.

On 30 December 1895 a contract was signed with Sir W G Armstrong Whitworth & Co Ltd  for the parts of an icebreaking ferry (without woodwork and in disassembled state). The following June, the icebreaker had been delivered for assembly, and after three years it was completed then launched on 29 June 1899.

Baikal carried two loads a day across the lake. Damaged by field artillery fire in August 1918, she burnt and sank at the Mysovaya pier. In 1920 the damaged hull was refloated and towed to Port Baikal where it was scrapped.
Great ice-breaker of a sad destiny
on English Russia
The icebreaking steamer 'Baikal'  (1090 x 784)
on Tyne & Wear Archives & Museums Flickr pages
Ice, Snow and More Ice (Set: 18)
Burton Holmes on the Trans-Siberian Railroad:
Chapter 10: Lake Baikal  in summer
Born in 1870, Mr. Burton Holmes was the greatest traveler of his time.
In 1883 he purchased his first camera.
While Baikal was being transported in parts from Britain, the committee decided to order another smaller icebreaker, which would be named Angara, for transporting goods and passangers on the same route. The parts of this new icebreaker were shipped from Britain to Revel (now Tallinn), and then went by the Trans-Siberian Railroad to the shore of Baikal. It was assembled and first touched the water on July 25, 1900.

Angara continued to transport goods and passengers until 1962. Angara was refurbished in 1989 by the donations of private individuals and organizations. Now it is a floating museum.  +
Soviet postage stamp, 1976, commemorating Icebreaker Feodor Litke
Icebreaking steamship Fyodor Litke (1909) – built in 1909 as an icebreaking freight and passenger steamer in Barrow-in-Furness, England for the Saint Lawrence River service and initially named CGC Earl Grey.

Unlike conventional icebreakers that crush ice with their own weight from above, Litke belonged to an older generation of vessels, relying on ramming and cutting ice without any downward movement. For this reason, Litke was uniquely classified as an ice-cutter. The ship was known to roll excessively, even on relatively calm seas.

After four years in Canada it was sold to the Russian government and eventually renamed in honour of the Arctic explorer Fyodor Petrovich Litke.

Litke became famous for its Arctic operations in 1932—1935, survived World War II and was retired in 1958 after nearly 50 years of service.
Mikhail Shankov; Commander Vitus Bering on Art and Faith
Prominent Russians:
Vitus Bering
(1681 – 1741) Vitus Jonassen Bering was one of the world's most famous explorers, born in Horsens, Jutland (Denmark). rom the time Vitus was a small child he loved the sea. He went sailing as a young man and learned navigation on Dutch and Danish ships.

In late 1724 Tsar Peter I the Great appointed Bering to take command of the First Kamchatka Expedition (1725 -1730). It is traditionally believed that the purpose of this expedition was to explore far northeastern Siberia and determine whether Asia and the Americas were connected by a land bridge, but some discussion has arisen among historians as to the accuracy of this assumption.

Peter instructed Bering to travel to the east coast of Kamchatka and once there to: 1) build one or two ships; 2) go north and find out where the coast ends; 3) go to a European-controlled city, find out who it belongs to, make a map, and come back home…
Vitus Bering
on wikipedia
USSR – postage stamp shows russian icebreaker Malygin
Icebreaker Malygin (1912) – (above)  built initially as the SS Bruce for the Newfoundland shipping company and sold to Russia in 1915, renamed Malygin in 1921.

In 1928, she took part in the search of the Umberto Nobile's dirigible expedition, and in 1922-1939, she performed hydrological research in the Arctic Ocean.
Graf Zeppelin (LZ-127) in the Arctic, July 27, 1931
In July 1931, Professor V. Yu. Vize led an expedition aboard the Malygin to Franz Josef Land, where their mission was to locate a suitable place for a Soviet floatplane base. There, German airship Graf Zeppelin made a memorable rendezvous with ship at Bukhta Tikhaya in Hooker Island.

The Malygin sank in a storm near Kamchatka on 28 October 1940 with all 98 people on board while returning from a hydrographic expedition.
Stepan Gavrilovich Malygin
(died August 1, 1764) was a Russian Arctic explorer.
Second Kamchatka Expedition:  In 1736–1737, two boats Perviy  and Vtoroy under the command of Stepan Malygin undertook a voyage from the Dolgiy Island in the Barents Sea to the mouth of the Ob River. During this trip, Malygin described this part of the Russian Arctic coastline and made a map of the area. +
further reading: Academic Discovery of Siberia
Museum Ship Krasin (full size)
on sit down man, you're a bloody tragedy
Krasin (1917) – The first icebreaker built for the Imperial Russian Navy has been fully restored to operating condition and is now a museum ship in Saint Petersburg.

Built by Armstrong Whitworth in Newcastle upon Tyne, launched as the Svyatogor on 3 August 1916 and completed in February 1917. Until the 1950s, she remained the most powerful icebreaker in the world.

During the allied intervention against the Bolsheviks in Northern Russia (1918-19) she was scuttled by the Royal Navy. They raised her for use in the White Sea and later brought her to Scapa Flow for minesweeping. Returned to the USSR in 1921 and renamed Krasin by the Soviets in 1927 to honor a recently deceased Bolshevik leader and Soviet diplomat Leonid Borisovich Krasin.

Most famous for her rescue of downed balloonist General Umberto Nobile (designer of the Norge ) close to the North Pole, after his failed Italian Polar expedition in 1928.

see also: The Red Tent (film), a film about the rescue effort.

Later that's ame year, Krasin rescued the German passenger ship Monte Cervantes after it hit an iceberg and was severely damaged with 1835 passengers on board.
The Most Famous Russian Polar Icebreaker
on English Russia
Finnish icebreaker Voima (1924)
Voima (meaning "power" in Finnish) was a Finnish and later Soviet steam-powered icebreaker. After two decades of successful service Voima was handed over to the Soviet Union as war reparation in 1945 and renamed Malygin.

Laid down as Shtorm, the icebreaker was intended not only for escort operations on the Baltic Sea, but also naval tasks such as laying mines during the winter months and transporting troops and supplies to Russian warships and coastal forts. With a maximum output of 4,100 indicated horsepower (3,100 kW), making her the most powerful Finnish icebreaker at that time.

When the Moscow Armistice was signed on 19 September 1944, Finland was ordered to pay war reparations to the Soviet Union. One of the first payments included the newest and most powerful state-owned steam-powered icebreakers, and Voima was handed over along with the enormous Jääkarhu on 24 February 1945.

She remained in service until 1970 and was broken up in 1971. +
Sampo during sea trials on 23 October 1898
Sampo (1898) –  Finnish state-owned steam-powered icebreaker built in 1898 by Sir W.G. Armstrong, Whitworth & Co Ltd in Newcastle upon Tyne. Named after a magical artifact from the Finnish mythology, she was the first European icebreaker equipped with a bow propeller.

In the 1890s, the Senate of Finland sent two engineers to investigate a new icebreaker design that had been developed in the United States in the 1880s and access its capability. Unlike the European icebreakers, the 1888-built train ferry St Ignace had two propellers, one at (each) end of the ship.

Sold on the superiority of the new design, the Senate Winter Navigation committee recommended that the new icebreaker should be of the so-called "American type".  While not the cheapest bid, Armstrong Whitworth had the shortest delivery time — only seven months.

From the first day, the new icebreaker, capable of breaking through ridges up to six metres thick by ramming, performed beyond expectations and was generally deemed the best icebreaker in Europe at that time.

Sampo survived the Great War without damage. On 6 January 1940 Sampo was assisting a convoy of three merchant ships towards Pori in difficult conditions — the temperature was nearly −30 °C (−22 °F) and fog reduced the visibility to zero. Proceeding in light ice conditions at 8 knots when she collided with an underwater obstacle and suddenly stopped…
Sampo (1898) on wikipedia
Defence of the Sampo by Gallen-Kallela
1200 × 1183
Tarmo (1907 icebreaker) –  Finnish steam-powered icebreaker built in 1907 by Sir W.G. Armstrong, Whitworth & Co Ltd in Newcastle upon Tyne.

She is the last Finnish steam-powered icebreaker to remain in service. Decommissioned in 1970, a decision was made to preserve the vessel as a museum ship. After a long wait in Helsinki, Tarmo was completely restored in the early 1990s.
Wärtsilä Hietalahti shipyard  was unable to compete for bids due to difficulties in acquiring and importing steel suitable for icebreakers.  Tarmo was stationed at the Gulf of Finland, where in addition to assisting ships she often had to rescue local fishermen trapped on drifting ice floes.
She suffered massive damage after a Soviet bombing run in WW2. The first bomb missed the icebreaker and exploded harmlessly on ice in front of the ship, but the second hit the foredeck and destroyed the anchors. The third penetrated the wooden weather deck in front of the bridge and detonated.

The blast immediately killed 38 crew members, wounded ten, and started a fire that quickly spread aft. The blaze, which had ignited the ammunition stores and destroyed nearly all wooden parts from amidships aft, was eventually brought under control.

The bow of the ship had been reduced to a pile of mangled pipes, twisted frames and torn plating, from which the twin barrels of the forward 120 mm guns were pointing to the sky. Her forward engine room was full of water that had frozen around the steam engine. After extensive repairs, she was eventually returned to service.

The retirement of Tarmo did not go as planned. The winter of 1970 turned out to be very harsh and the old icebreaker had to be recommissioned. It took nearly 20 years until Tarmo could be fully restored. She is now preserved in the Maritime Museum of Finland in Kotka.
Yermak (1898)  – Russian and later Soviet icebreaker and the first polar icebreaker in the world, having a strengthened hull shaped to ride over and crush pack ice. image source (above)

Built for the Imperial Russian Navy by Armstrong Whitworth in Newcastle upon Tyne and launched in 1898. She was named after the famous Russian explorer of Siberia Yermak Timofeyevich.

In 1899 she reached 81°21'N north of Spitsbergen.

During World War I, she assisted the Baltic Fleet during the Ice cruise when the fleet was evacuated from Helsinki to Kronstadt in February 1918.

During World War II she was mobilised again and took part in the evacuaton of Hanko naval base.

Yermak served with different branches of Russian and Soviet Navy and Merchant Marine up until 1964, becoming one of longest-serving icebreakers in the world. +
Finnish Icebreaker APU 1899
1600 × 1085
Apu was a Finnish state-owned steam-powered icebreaker, built by Howaldtswerke in Kiel, Germany, in 1899. The main task of Apu was to assist ships between Turku and Stockholm although scheduled year-round shipping service to the German city of Lübeck was launched during her first year in operation.

August 1914; Russia joined the First World War and the Finnish icebreakers were placed under the command of the Baltic Fleet of the Imperial Russian Navy. The vessel was confiscated and used to transport troops and supplies to coastal forts at the Gulf of Finland.

Apu remained in service through the Second World War until 1959, when she was replaced by the new diesel-electric Murtaja.
Jääkarhu arriving in Helsinki in April 1926
Finnish and later Soviet steam-powered icebreaker. Built in 1926 by P. Smit Jr. Shipbuilding and Machine Factory in Rotterdam, Netherlands.

Although sometimes called the largest and most powerful icebreaker in the world by the press in the 1920s, Jääkarhu was no match for the Soviet polar icebreakers Yermak and Svyatogor that had nearly twice the displacement and over twice the power of the Finnish vessel.

Jääkarhu was handed over to the Soviet Union as war reparation in 1945 and renamed Sibiryakov. She remained in service until the 1970s, then broken up in 1972.
Development of the Finnish Maritime Shipping Industry; The Icebreakers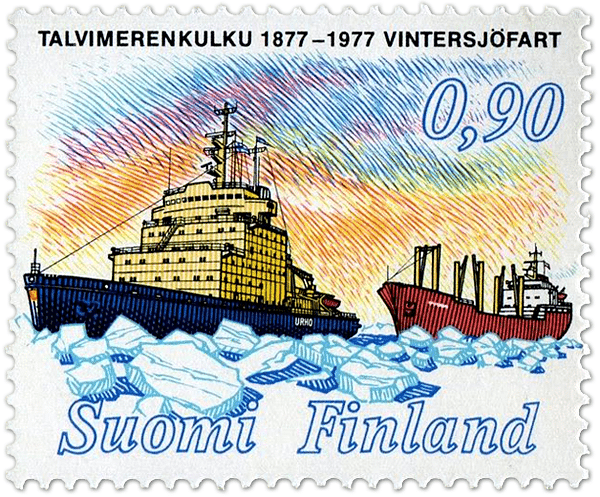 Ice breaker rescuing a freighter, designed by Torsten Ekström
issued by Finland on March 2, 1977 to commemorate the centenary of the opening
of winter navigation between Finland and Sweden by the steamer Express
Big Bad ASS Russian nuclear icebreaker YAMAL
Laid down in Leningrad in 1986  but not launched until after the breakup of the Soviet Union. Operated by the Murmansk Shipping Company, she never fulfilled her intended role of keeping shipping lanes open, but rather has always carried passengers on arctic excursions.

She is equipped with 50 passenger cabins and suites, all with toilets, exterior windows, a television, and a desk.

Yamal is one of the Russian "Arctic" family of icebreakers, the most powerful icebreakers in the world. These ships must cruise exclusively in cold water to cool their reactors, rendering them unable to pass through the tropics to undertake voyages in the Southern hemisphere.

From August to September 2009 the ice breaker took part in the scheduled evacuation of drifting ice stations. Each station houses 18 polar explorers, dogs, and more than 150 tons of cargo. The evacuation of station personnel and cargo from a drifting ice floe requires three days of continuous, round-the-clock work.

above right: on a 1994 joint expedition with the NSF
see also: icebreaker ROSSIYA under the aurora borealis
If You Can't Get Enough:
Early Icebreakers (20th century)
on Woods Hole Oceanographic Institution
McMurdo Sound, Dec. 1955 / full size
more Bird life
---
Adventures of the Blackgang on tumblr
(twitter) – (instagram)
Maritime Monday Archives »