In the span of less than a week, a second vessel overloaded with refugees has capsized and sunk in the waters northwest of Australia, 107 miles north of Christmas Island.
The Australian Maritime Safety Administration (AMSA) reports that a joint high seas rescue operation has saved the lives of 130 people, and recovered one deceased after their vessel sank.  Three are missing and believed to have gone down with the ship.
The rescue operation involved HMAS Maitland, HMAS Leeuwin, a RAAF AP-3C Orion, and two merchant vessels, the  MV Tancred and MV Bison Express.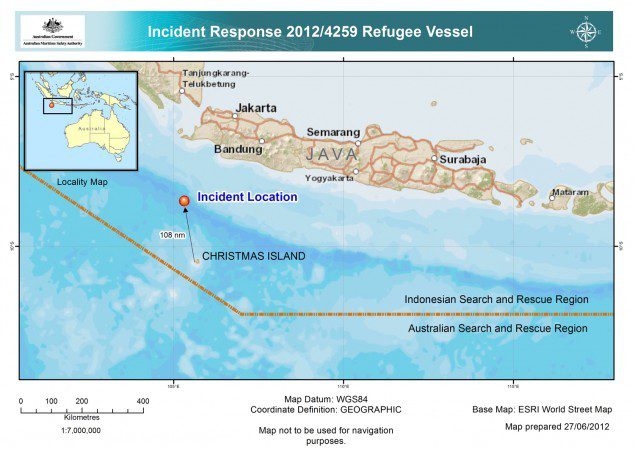 Following an intense search and rescue operation during the day, no more survivors or deceased people have been sighted in the search area by on-scene aircraft or vessels and as of 21.30AEST the rescue operation has now been listed as officially completed according to the AMSA.
HMAS Maitland recovered 53 survivors, the MV Tancred recovered 68 survivors and MV Bison Express recovered 9 survivors (130 in total).
All survivors and the one deceased person have been transferred to HMAS Leeuwin and are being taken to Christmas Island.