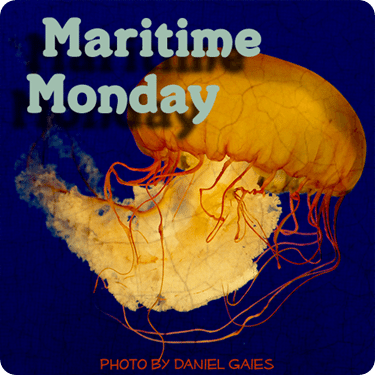 click image to see original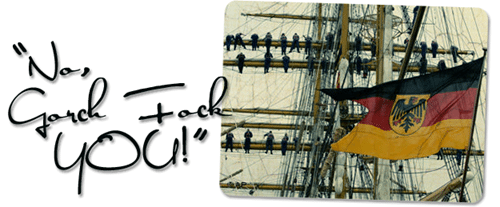 The commander of the naval training ship Gorch Fock has been dismissed after cadets complained of harsh treatment from superiors following a fatal accident. The ship will now return to Germany.
Defense Minister Karl-Theodor zu Guttenberg has dismissed the commander of the naval training ship Gorch Fock after rumors of mutiny following a fatal accident on board.
Guttenberg ordered the ship to "return directly to Germany" and asked for Commander Norbert Schatz to be relieved of his duty, according to German media reports.
The Gorch Fock "will be removed from the list of ships at the ready, until a commission is formed including members of the German Bundestag that can determine whether the Gorch Fock has a future on the open sea as a training ship and emissary of Germany," the minister  aid. It will be docked in Kiel until further notice. keep reading »
Background: yesterday's post on Old Salt
Elco Yacht at RCA Exhibit New York World's Fair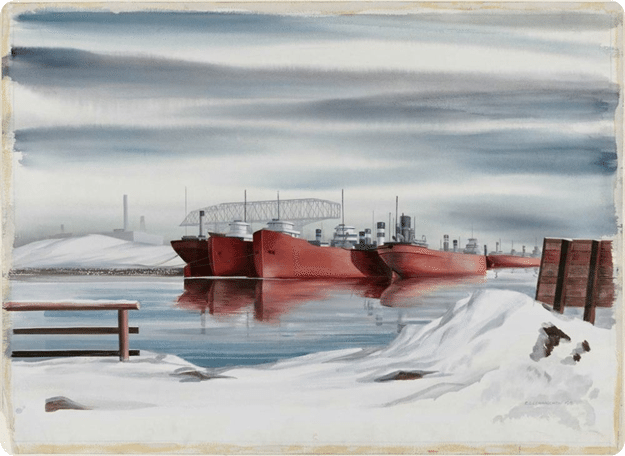 Winter Port – 1941 – Edmund D. Lewandowski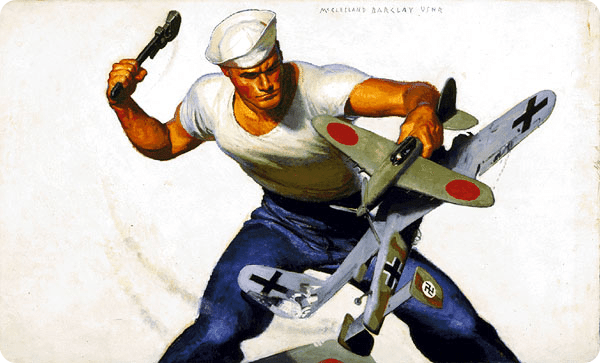 McClelland Barclay – Sailor Smashing Identification Models of Japanese and German Aircraft
Weeki Wachee Springs rows of mermaids vintage postcard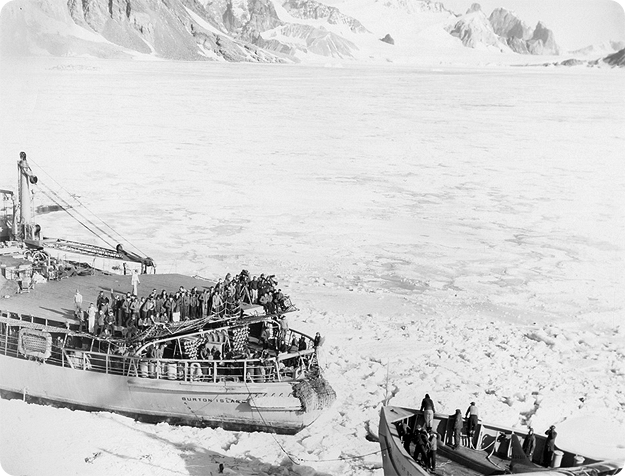 The USS Burton Island (AG-88) and the USS Edisto (AG-89) Breaking Ice
Operation Windmill; 1947
Notes: Image located in Robert B. Klaverkamp's collection. Klaverkamp, an enlisted Naval Correspondent, participated in Operation Windmill. Malcolm Davis, zookeeper at the Smithsonian's National Zoological Park, was also on the expedition and was assigned to the Icebreaker USS Edisto (AG-89) with the express purpose of collecting penguins, other birds, and leopard seals
Summary: Image of the USS Burton Island (AG-88) and the USS Edisto (AG-89) breaking ice in Antarctica, for Operation Windmill. The USS Burton Island can be seen to the left of the image with the crew standing on deck. The USS Edisto is in the bottom of the image and it is connected to the USS Burton by a rope. The caption at the bottom of the image reads: "Operation Iceikle." Operation Windmill (1947-1948) was an expedition established by the Chief of Naval Operations to train personnel, test equipment, and reaffirm American interests in Antarctica.
more: Navy Helicopter Flying Over Antarctica -  Icebreaker with Equipment in Antarctica
LITTLE SHARK by JTO
Four LST's unload men and equipment on beach in Inchon on Sept. 15, 1950. (AP Photo) The Big Picture
Bo Bartlett – Lifeboat; 1998 - (via issafly)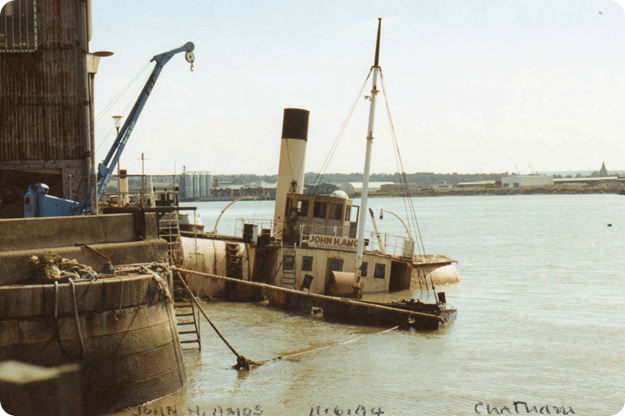 JOHN H. AMOS at Chatham – 11 th June 1994 -  shipsnostalgia.com
vintage postcard story series:  1 – Hindhead – The "Red Lion" c 1910
3 – Hindhead – The Arrest c1910
4 – Hindhead – Gibbert Hill c 1910
Water Wench Wednesday on Scuttlefish
greatestgeneration: An equator crossing ceremony aboard the Wasp aircraft carrier, 1942. The hazing continued through the years.  And here. And here. Oh, Navy…you crack me up!
USS Wasp (CV-7), laid down in 1936, was an aircraft carrier that saw action in World War II in the Atlantic and Pacific, until sunk by enemy action in September 1942.
Douglas TBD Devastator of VT-6, aboard USS Enterprise 1942.
by ~MercenaryGraphics – http://mercenarygraphics.deviantart.com/gallery/
I now have product of my designs available on CafePress:
Winter weather aboard USS Constitution - CHARLESTOWN, Mass. Aviation Electrician's Mate Airman John Fisher shovels snow in front of USS Constitution. Constitution is the world's oldest commissioned warship afloat. (U.S. Navy photo by Seaman Shannon Heavin/Released)  Original (3585 x 2561)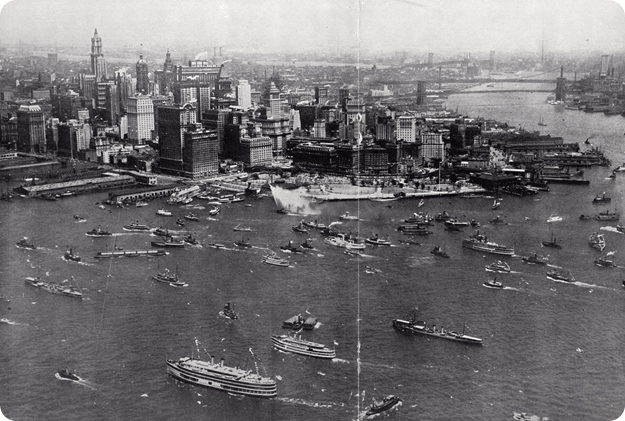 Manhattan c. 1870 –   Downtown, 1890, from the Statue of Liberty -  Manhattan, 1926 (aerial) - Downtown, 1927 -  brought to you by garik
On May 27, 2009, the General Hoyt S. Vandenberg was sunk to create an artificial reef. It landed perfectly upright.  photo by David Doubilet
Relics to Reefs: Why fish can't resist ships, tanks, and subway cars on seamonstery
"At Humanity's Call" – Description: Photograph of the Wreck of the Steam Ship Escurial at Portreath Cornwall. Title given to the picture 'At Humanity's Call'.
Photograph taken by John Charles Burrow (1852-1914) of Camborne, Cornwall, 1895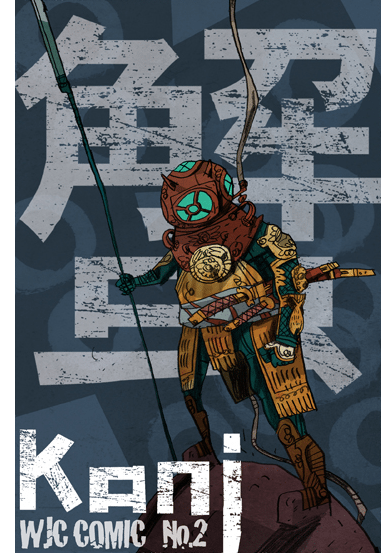 Kani: Definitely the greatest underwater deep sea diving samurai adventure you'll read all year.
As an artist, most of Cadwell's comics are heavy on artwork and light on text, and it feels like he prefers to let the artwork tell it's own story. Maybe through choice, possibly through feeling less comfortable telling his work through words? But it does mean that the majority of his work thus far has been relatively minimalist stuff, with the majority of the story told through the art, with occasional use of captions and speech bubbles.
Kani continues this trend; a 20 page comic which remains resolutely wordless until the last couple of pages. However, this time around there are very practical reasons for this, since nearly the entirety of the comic takes place underwater.
Kani is a comic all about the adventures of a deep sea diving samurai. I like the idea of a deep sea diving Samurai, stalking and fighting on the ocean floor. Just utterly surreal, with no rhyme nor reason. Just because.
forbiddenplanet article -  Warwick Johnson Cadwell's website
Alexander Ross, Untitled, ink, graphite, 18"x20", 1999  – via trixietreats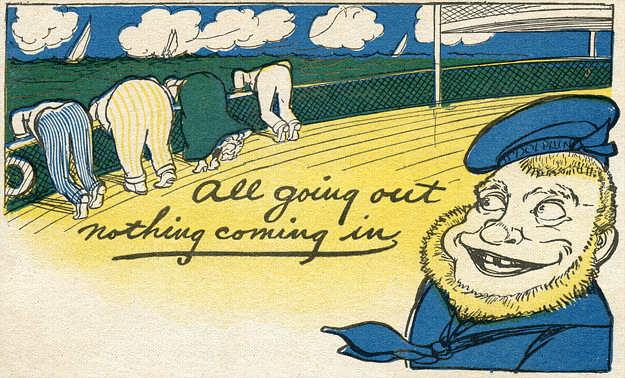 "All going out, nothing coming in" – Posted South Croydon, Aug. 1910
Streets of Paris, Chicago World's Fair
Seaplane of the Scout Observation Type WW 2 vintage postcard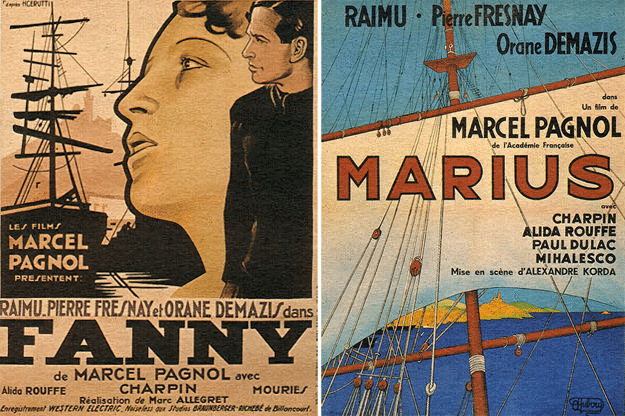 Get these off Netflix for a night at home with the woman, she'll be impressed (winkwinknudgenudge)
Fanny (1932) : Marius has signed up for a five year hitch on a ship bound for the Indian Ocean. In his few letters to his father César, he hardly mentions Fanny. When she finds she is pregnant, she considers her options: suicide, to raise the child on her own, to wait for Marius, or to marry Honoré Panisse, the older merchant who seeks her hand. imdb
Marius – César runs a bar along Marseilles' port, assisted by his 23 year old son, Marius. Colorful characters abound: M. Panisse, an aging widower and prosperous sail maker; Honorine, a fishmonger with a sidewalk stall near the bar; her daughter, Fanny, who helps her sell cockles; and, various old salts.
Friends since childhood, Fanny and Marius love each other, but Marius has a secret wanderlust: every ship's whistle stirs a longing for foreign lands. When M. Panisse seeks Fanny's hand in marriage and when a departing clipper needs a deckhand, Marius and Fanny must decide who and what they love most. César, with his generous, comic spirit, tries to guide his son.   imdb
Bow view… HMS Warrior drydocked – Original (1984 x 1488) -photo by umbry101
HMS Warrior was the first iron-hulled, armour-plated warship, built for the Royal Navy in response to the first ironclad warship, the French La Gloire, launched a year earlier.
When completed in October 1861, Warrior was by far the largest, fastest, most heavily armed and most heavily armoured warship the world had ever seen. She was almost twice the size of La Gloire and thoroughly outclassed the French ship in speed, armour, and gunnery.
Her construction started an intense international competition between guns and armour that did not end until air power made battleships obsolete in the Second World War. HMS Warrior became an early example of the trend towards rapid battleship obsolescence and was withdrawn as a fighting unit in May 1883. Listed as part of the National Historic Fleet, Core Collection, she is now a museum ship in Portsmouth, United Kingdom. 
more on wiki >
see also: tinted lithograph, H.M.S. Warrior -  ARMAMENT: Gun Deck; HMS Warrior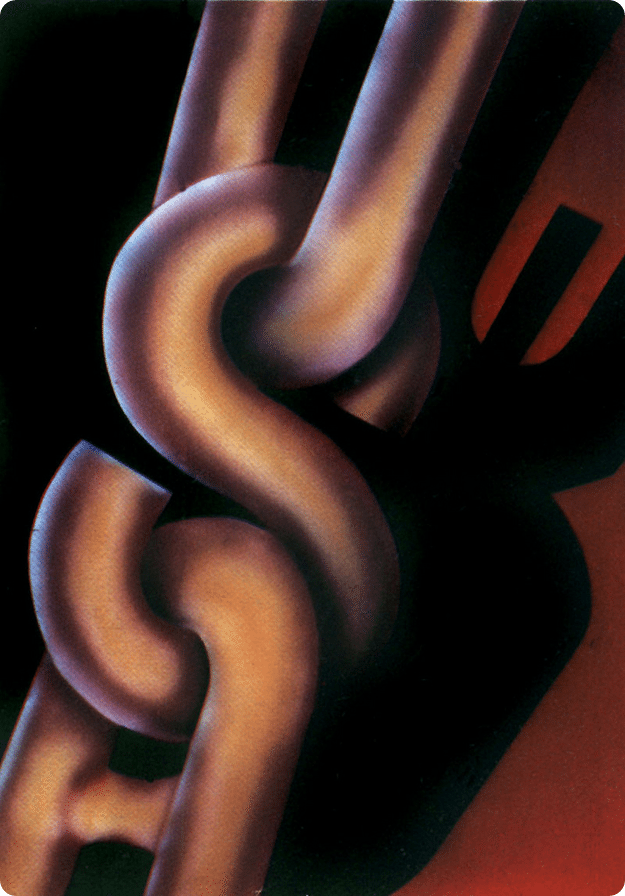 USSR—-usa-chains — x-ray delta one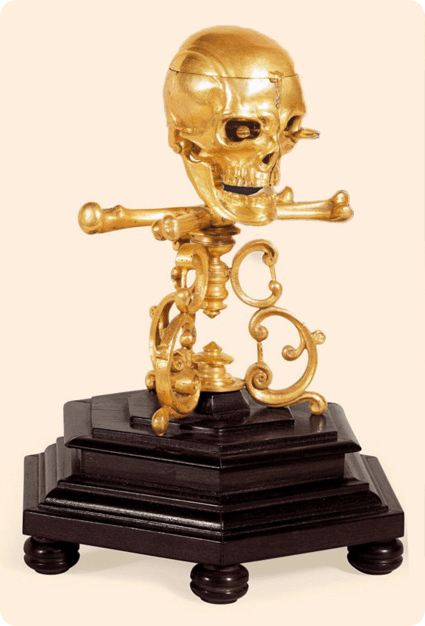 The Automata / Automaton Blog: 400 year old gold skull automaton and clock on mudwerks
This incredible automaton features a beautiful clock underneath the skull cap. Over the course of a few minutes the mandible opens, then snaps shut all of a sudden. The snakes in two eye sockets alternately emerge and retreat. Created in 1610 by Nicolaus Schmidt der Junger, this skull automaton/mechanical clock recently sold for an astounding $135,000.   more »
Vanitas Herman Henstenburgh ca.1700 – (via theshadowland)
carnetimaginaire: Chloe Poizat, via 1.bp.blogspot.com
This Week's Song: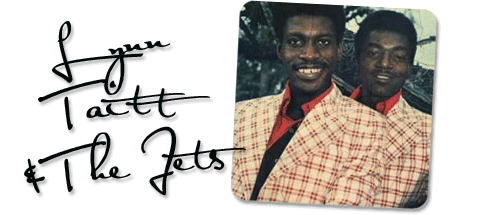 Lynn Taitt & The Jets | Why Am I Treated So Badly
---

Monkey Fist is a smack-talking, potty mouthed, Yankee hating, Red Sox fan in Portland, Maine.  In addition to compiling Maritime Monday, she blogs about nautical art, history, and marine science on Adventures of the Blackgang. Submit story ideas, news links, photographs, or items of interest to her at MM@gcaptain.com.  She can also out-belch any man.
Mothersill's Seasick Remedy Ad, 1922
http://adventures-of-the-blackgang.tumblr.com/post/2869581381/vaterland-in-dry-dock